Just ten days post welcoming their second baby boy into the world, Caitlyn Wilson tragically passed away due to complications related to childbirth.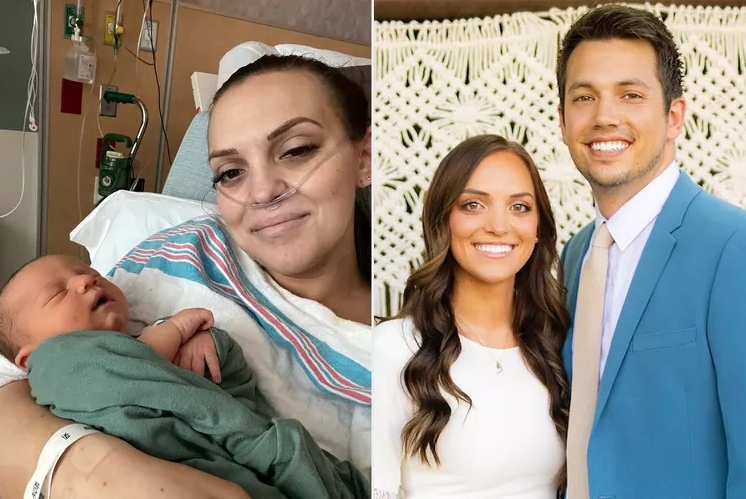 When Jared Wilson escorted his pregnant wife Caitlyn to the hospital to deliver their son Gabriel, he couldn't have fathomed that he would be returning home with only one of them.
On December 12, Wilson accompanied his 27-year-old wife to a hospital in Buffalo, New York, for her planned induction, leaving later in the day to care for their one-year-old son, Lincoln. That night, Wilson, who was an anesthesiologist resident at the hospital, reunited with Caitlyn, noting that everything "appeared to be progressing exceptionally well." She received her epidural around 1 a.m., and shortly thereafter, an OB resident arrived to break her water.
Despite no initial concerns about the baby's position, trouble arose after her water broke. Wilson remembers that their son's arm was slightly above his face, with the umbilical cord directly behind it. "As the resident was assisting with the positioning, his arm moved into the birth canal, pinching the cord between his neck, head, and the wall as the fluid drained, leading to uterine cord prolapse," he explained. This condition, where the baby begins to suffocate, holds a highly elevated mortality risk.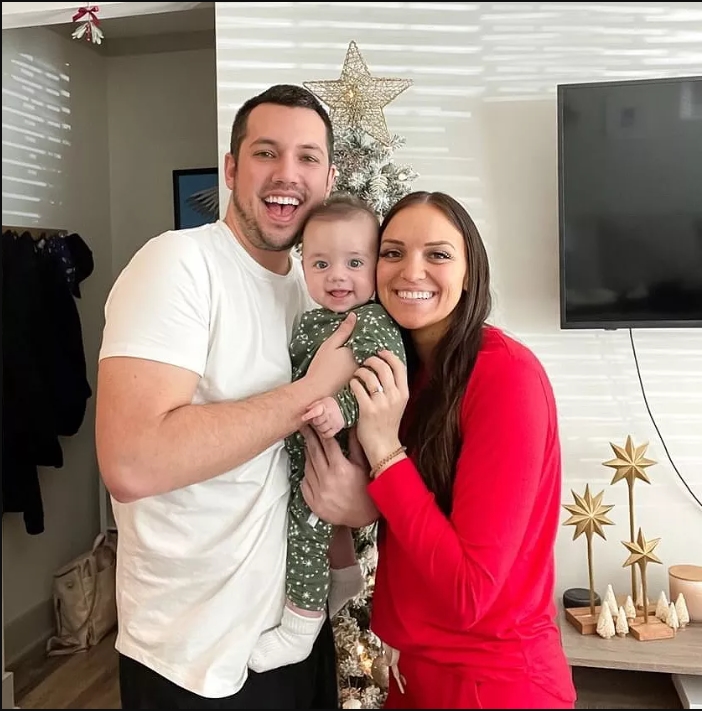 Wilson recounted the frantic moments that followed. The nursing team and chief residents were summoned, and the chief resident swiftly acted, lifting Gabriel inside the birth canal away from his own cord and initiating an emergency c-section.
"Everything was moving rapidly. At 2:02 a.m., I sent texts to both sets of parents asking them to pray for Caitlyn as she was being rushed down the hallway to the operating room," Wilson recalls. By 2:17 a.m., the surgeons returned to him with pictures, timed at 2:12 a.m., showing a healthy, crying Gabriel. Within a span of 10 minutes, Caitlyn had been taken to the OR, and Gabriel was born.
However, the complications for Caitlyn arose during the transition to general anesthesia in the OR. Despite the recently placed epidural, she could still feel her stomach, necessitating her intubation. Wilson explained to PEOPLE, "One of the significant risks of general anesthesia is the aspiration of stomach fluids and contents into the lungs, a risk that is heightened in emergency situations, particularly for a pregnant woman."
When Caitlyn was intubated, a significant amount of fluid, both water and stomach acid, surged upwards. Despite the medical team's efforts to suction it out, concerns mounted over the quantity that might have entered her lungs.
A couple of hours later, Caitlyn was brought back into the room, now on minimal oxygen support. The surgery and c-section had been successfully completed, with priority given to quickly and securely closing the surgical site to ensure the baby's safe delivery.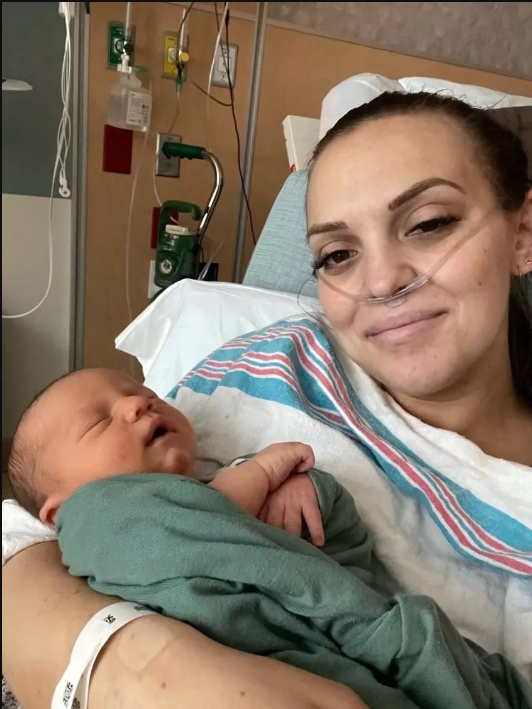 Wilson continued, explaining the heightened difficulties in Caitlyn's recovery period, accentuated by her painful, persistent coughing. Prior to this situation, Caitlyn had been dealing with a mild case of bronchitis, leaving her airways sensitive and inflamed. Her ability to cough out the aspirated fluid was hindered by the intense pain, making it feel as though her stomach was about to rupture.
Despite these challenges, much was achieved. "She managed to expel a lot, and both Gabriel and she appeared healthy and secure," Wilson recalls. The outlook seemed positive, considering Caitlyn's young age and overall good health. He had hope that her resilience would facilitate a swift recovery from the aspiration and subsequent complications.
However, over the following ten days, Wilson observed subtle yet persistent issues that seemed to be concealed by the chaotic blend of aspiration, emergency surgery, and pregnancy. Caitlyn, despite still being under oxygen monitoring in the labor and delivery unit, was anxious to return home to her children.
Her visible discomfort, elevated heart rate, lower leg swelling, and the overwhelming hormonal shifts post-c-section added to her distress. Coupled with the anxiety of hospital confinement, oxygen dependency, and continuous monitoring, Caitlyn's yearning to reunite with her newborn and family grew stronger by the day.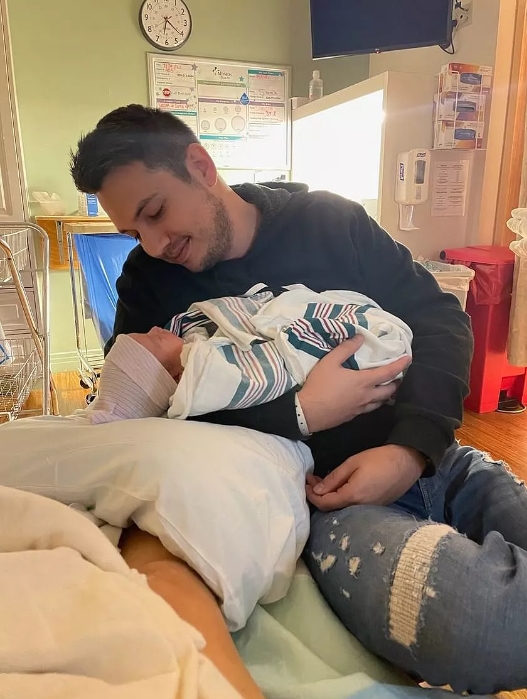 Shortly thereafter, Caitlyn's condition escalated, requiring increased oxygen, leading to her transfer to the Intensive Care Unit (ICU). Wilson brought Gabriel home as Caitlyn was placed on the maximum non-invasive oxygen support. Despite the daily increment in her oxygen needs, Caitlyn remained conscious, communicative, and relatively pain-free with medication, Wilson recounts.
However, on December 21, coinciding with Wilson's 30th birthday, Caitlyn had to be intubated due to persistent lung inflammation. Seeking respite and willing to let the machine breathe for her, she faced the intubation process. "She was weary of the ongoing struggle, and it was evident," Wilson notes.
The situation swiftly deteriorated. Wilson explains, "Everything went awry immediately." Until that moment, Caitlyn had only been administered minimal dose pain medications and treatments for acid reflux and constipation. Despite her critical condition, she was among the healthiest individuals in the ICU.
The intubation led to unforeseen complications. Unable to maintain Caitlyn's oxygen levels post-intubation, the machines, designed adeptly for mirroring human respiratory functions, fell short. Concurrently, her laboratory results, consistent until then, suddenly reflected an alarming escalation in her white blood cell count, leaping from 10 to 40 in less than eight hours, a considerable surge by any medical standard.
"As she chose to let others assist her in her struggle, allowing herself a respite, her blood pressure suddenly plummeted, proving impossible to stabilize," Wilson recounts. This deterioration was exacerbated by her recent pregnancy making her prone to fluid leakages into her tissues and muscles, a situation aggravated by the essential fluid and blood replenishment her dehydrated and blood-depleted body needed.
He continues, explaining the precarious balance of her treatment: "While administering fluids, we discovered at least two blood clots in her legs, with signs pointing to a possible larger clot that had migrated to her heart. Ultrasounds indicated her heart was in obstructive shock, a condition contradictorily requiring the cessation of fluid intake. Yet, her skyrocketing white cell count, a clear indicator of septic shock, demanded extensive fluid administration."
Her situation was further complicated by the need for blood thinners to address the blood clots, a risky move so soon after an emergency cesarean section and significant blood loss. Wilson portrays a vivid image of the tireless, resilient Caitlyn up until December 21, maintaining her strength and spirit.
"However, the moment she ceded control, allowing others to bear the burden of her fight, her condition took a tragic turn," Wilson sadly notes. Within 12 hours post-intubation, Caitlyn experienced her first cardiac arrest. Although she was resuscitated, the early hours of the following morning manifested unmistakable signs of extensive organ damage and an inability to maintain vital oxygen levels, blood pressure, or control the sepsis.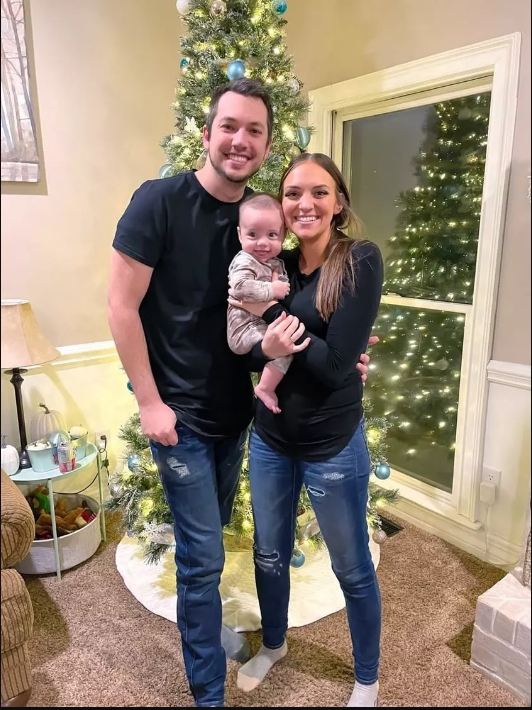 Jared Wilson's narration continues, painting a heartbreaking picture of desperate medical intervention and the emotional torment of losing a loved one. Despite every attempt to stabilize Caitlyn, the aggressive treatments were not proving successful. As a last resort, doctors decided to put her on dialysis to filter the acid and excess white blood cells from her blood, aiming to nourish her failing organs with clean, healthy blood. This, however, would remove even more fluid from her already shock-stricken body.
Jared's account moves to the grim morning of December 22nd. At 6:56 a.m., Caitlyn experienced cardiac arrest for the second time. Despite the swift response of the medical team, their life-saving efforts were proving futile. Jared, arriving at her room at around 6:59 a.m., was met with the harrowing sight of medical professionals in the midst of resuscitation efforts. Knowing the grim reality of her condition, he made the heart-wrenching decision to ask the team to stop their efforts.
Jared recalls the emotional toll of that moment, emphasizing the uncommon position he was in due to his medical background and his professional affiliation with the hospital. This situation allowed him a unique yet painful proximity to Caitlyn in her final moments. Granted permission to stay with her each night as a professional courtesy, he found himself in the unenviable position of witnessing and making the call to end life-saving measures for his own wife.
In an emotionally charged recount, Jared shares the solemn moments following his decision, as he held Caitlyn in the silence of the room after the machines were turned off, left to grieve in the cold light of that tragic December morning. The story highlights the harsh realities and decisions faced in critical medical situations and the profound impact they have on the lives and hearts of those involved.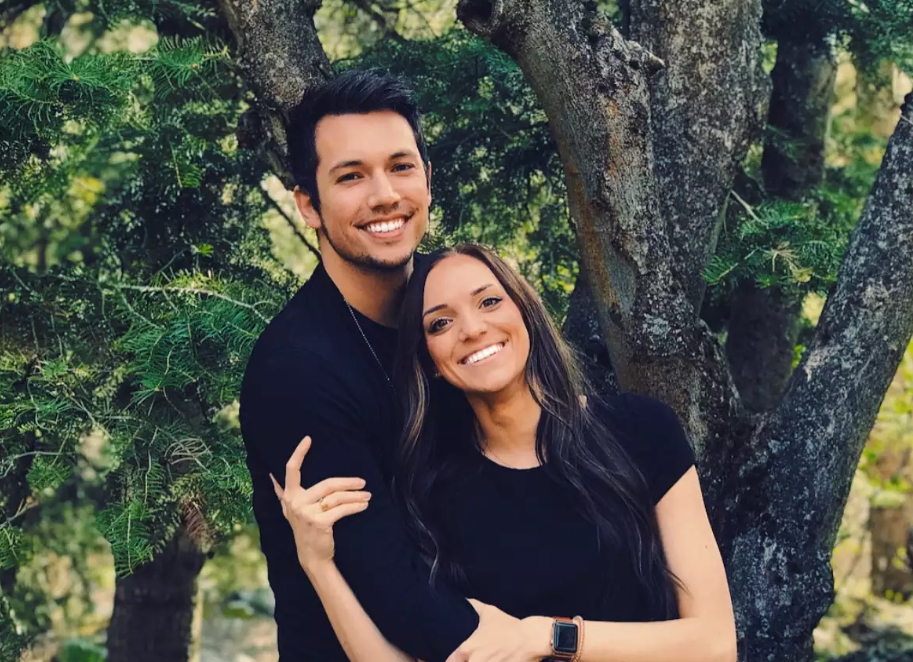 In the aftermath of Caitlyn's tragic passing, Jared Wilson recounts the difficult weeks that followed. Traveling to Utah with his sons, they stayed with Caitlyn's parents as they awaited the opportunity to lay her to rest on January 15. Amidst the grief, Wilson expresses profound gratitude towards his own parents. Their extraordinary act of selling their homes and vehicles to relocate and provide support for their son and grandchildren demonstrates the boundless nature of familial love and commitment.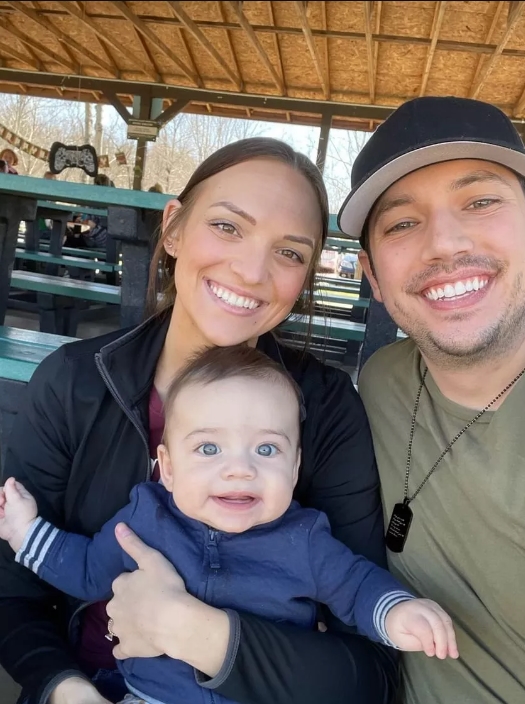 Jared's emotional narrative unveils the depth of his grief and the unexpected challenges that arose. He was grappling with the demands of his professional commitments alongside the immediate need to care for his two young sons, a scenario he had not anticipated facing. His parents' decision to uproot their lives to stand by him in this period of turmoil provided him with a foundation of support, ensuring he did not have to navigate this painful journey alone.
Reflecting on the birth of his second son, Gabriel, Wilson notes a stark contrast to the experience of welcoming his firstborn, Lincoln, into the world. The joyful moments of bonding, the immediate embrace of a mother's love, are painfully absent. Wilson recalls the surreal and detached moment when he was handed Gabriel, a bundled infant whose entry into the world was overshadowed by turmoil and uncertainty. Amid the chaos of the hospital, the precious initial days of bonding eluded them, leaving a void filled with longing and sadness.
Returning home, Wilson recounts the tear-filled journey, holding close his newborn son, Gabriel. A journey that should have been filled with joy and anticipation is instead a poignant reflection of the immense loss they endured, marking the beginning of a new chapter tinged with the pain of absence and the enduring love for Caitlyn. The emotional depths explored in his narration highlight the profound impact of love, loss, and the enduring bonds of family in the face of unimaginable tragedy.